To complete the delivery of an order, click the complete order button inside the order page.
Note: you can choose to deliver any order, irrelevant of their position in the queue. You will be notified however when completing an order that it is not next in line.
Upon order completion, you will be redirected to the order completion page where you can specify the order completion status (successful or failed), Add/Edit the PIN address and Add / Edit the photo of the building.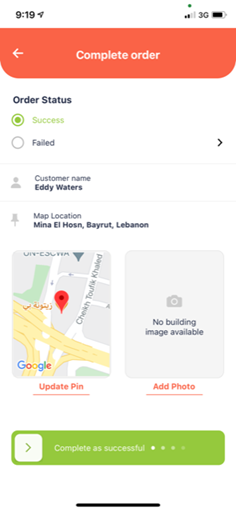 Once done, slide the complete button on the bottom of the page to the right to complete the order.
Note: If you complete an order as Failed, you'll be directed to a page where you mention the failure reason.
Once you've completed an order, the next in line order will start automatically, in case any.